Why should I invest in Ryo?
Ryo is backed by a full featured and balanced development team and is based on Monero which is being very actively developed.
Ryo was created with a long-term vision in mind. The coin emission path is quite similar to Bitcoin with the majority of coins to be distributed within 20 years.
Ryo has a very high privacy setting that is suitable for all high confidential transactions as well as for storage of value without being traced, monitored or identified. We call this true fungibility. This means that each coin is equal and interchangable; it is highly unlikely that any coin can ever by blacklisted due to previous transactions. In the long run, we believe these characteristics will pay off as crypto attacks become more sophisticated with much greater computation power in the future.
What is a "Plateau Curve" and how is it different than XMR or BTC?
Ryo's block reward changes every 6-months following a "Plateau Curve" distribution model. Our emission scheme is inspired by real-world mining production comparable to crude oil, coal and gas which is often slow at first, accelerated in the next few years before declining and becoming depleted. However, the emission path of Ryo is generally not that far apart from Bitcoin.
The emission curve for Ryo was one of the final aspects of the code we inherited from Sumokoin that was re-written and had to be even fixed during May 2019 community debates.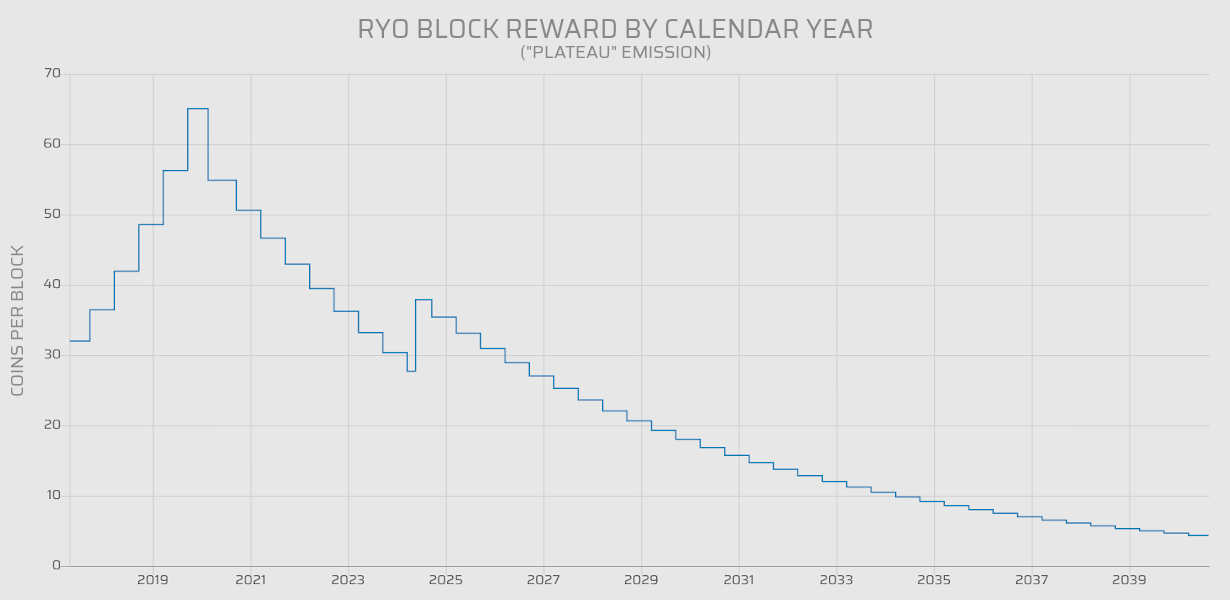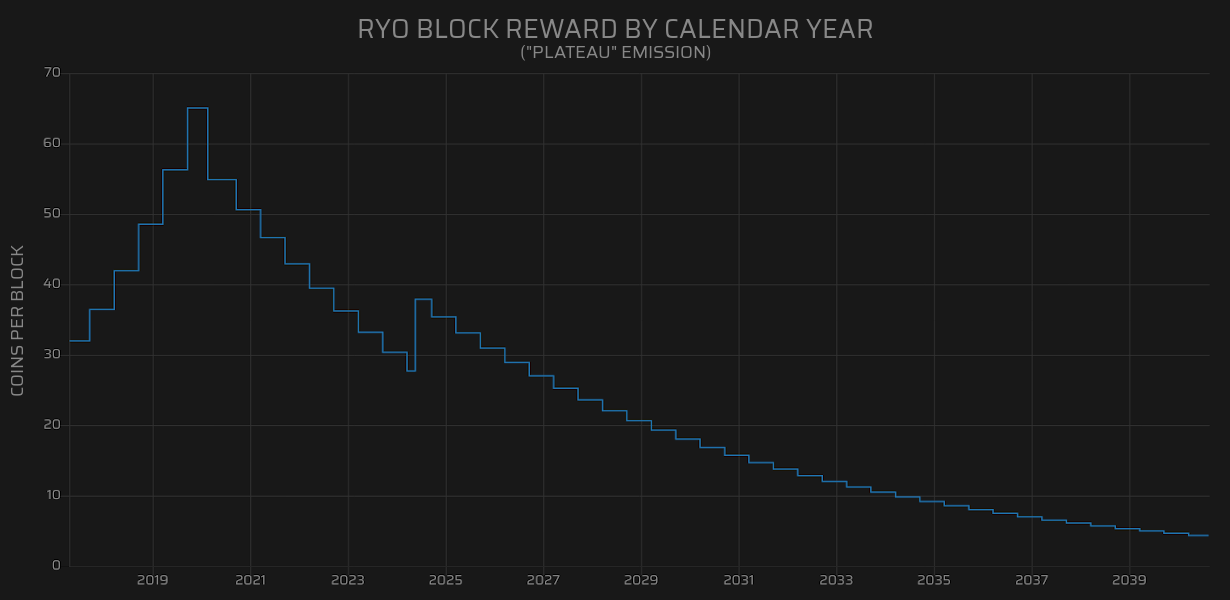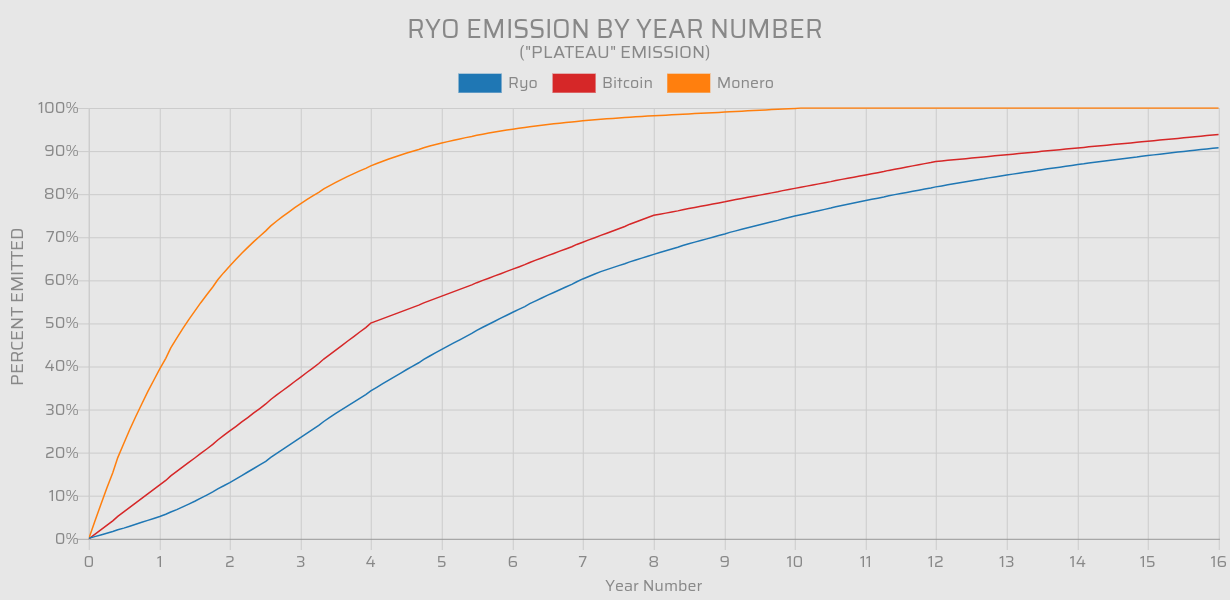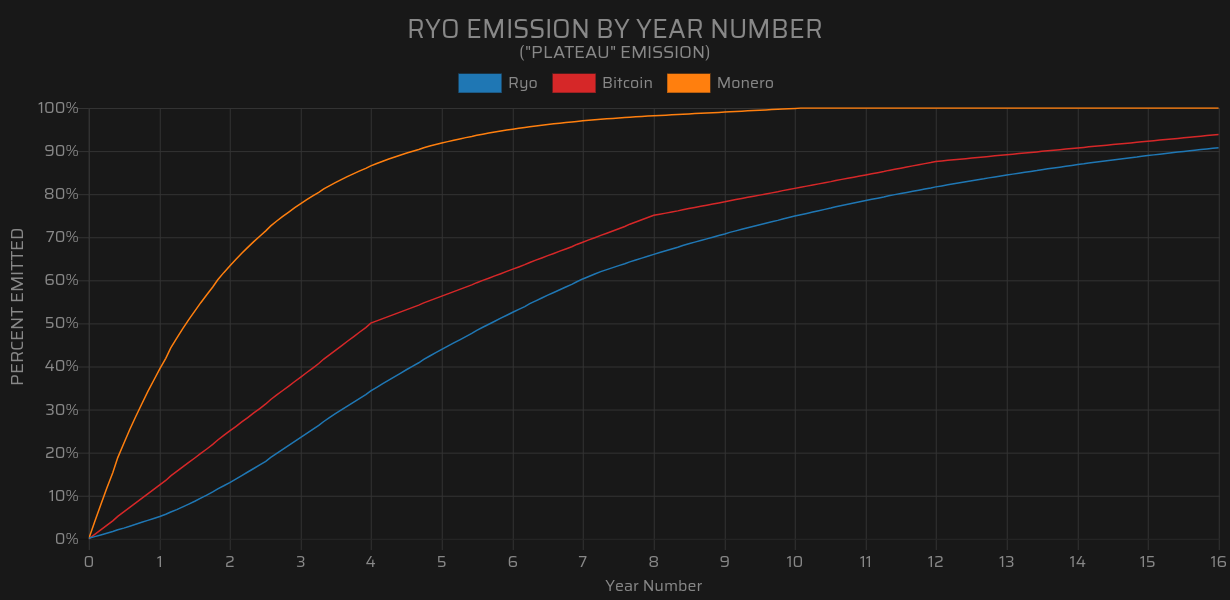 | Block height | Effective date | Block base reward |
| --- | --- | --- |
| 1 | 2017/04/18 | 32.00 Ryo |
| 65745 | 2017/11/01 | 36.45 Ryo |
| 131490 | 2018/05/17 | 41.97 Ryo |
| 197235 | 2018/11/17 | 48.59 Ryo |
| 262980 | 2019/05/23 | 56.28 Ryo |
| 328725 | 2019/11/29 | 65.07 Ryo |
| 388300 | 2020/05/19 | 54.895 Ryo |
| 460215 | 2020/12/12 | 50.64 Ryo |
| 525960 | 2021/05/30 | 46.66 Ryo |
| 591705 | 2021/12/1 | 42.95 Ryo |
| 657450 | Est. 2022/06/2 | 39.48 Ryo [CURRENT] |
| 723195 | Est. 2022/12/30 | 36.24 Ryo |
| 788940 | Est. 2023/04/18 | 33.21 Ryo |
| 854685 | Est. 2023/10/18 | 30.37 Ryo |
| 920430 | Est. 2024/04/17 | 27.73 Ryo |
Spreadsheet with block reward numbers (CSV, Excel) - Emission test script (Python)
How about development path/team for Ryo?
Ryo wants to be a cryptocurrency that can be used easily by average users, not only developers, so we focus on:
Developing and maintaining further our wallets (Desktop / Mobile and Web: Atom / Quasar)
Working with payment gateways to make RYO a viable cryptocurrency accepted widely among merchants.
Keeping improvement in coin security, untraceability, privacy and speed.
Getting in touch with more advertisers and end users in spreading awareness.
We believe that named "decentralised" project in development means that any user can contribute his time to form ideas or doing actual help in any part of Ryo: either it is core code, infrastructure (wallets, pools, miner updates etc) or community help and marketing as well as advertising tasks. We would like to thank each and every contributor that spent time in the past and currently spends time helping our active developers duo:
Active Developer and maintainer: @Fireice_uk
Active Contributing Team:@PiousFox, @koshukin_ryo
Special thanks goes to: @Mosu_forge, @Kesior, @Nostradamus411, @Psychocrypt and @SoapyFresh
If you are considering contributing your time to Ryo as a one-time, part time or full time contributor, we would like to discuss it with you:
write us an email
or contact any our active team members in
Telegram group
.
Be sure also to check our roadmap
What is the bump there in Ryo emission curve in ~2024?
It is an ending point of dev fund emission (that is on top of miner block reward) that was introduced during our community debates.
I have Sumokoin, how can I claim my Ryo?
You can claim your Ryo, if you had Sumokoin before they forked at block #137500. Ryo Currency as a chain fork kept all the transactions -and thus coins you had in your wallet- up and until Sumokoin forked at block #137500. To further secure your Ryo, tied the coins to a block after the fork.
First, install the latest Ryo wallet. Run it and generate a new wallet. Write down the seeds. Copy the PRIMARY ADDRESS under the RECEIVE tab. Then, click MENU » SWITCH WALLET and "RESTORE WALLET FROM SEED" restore your Ryo from the same seeds used for your old Sumokoin wallet in the Ryo Atom.
Send all your coins to the new Ryo PRIMARY ADDRESS you copied before.
After this, you can safely transact Sumokoin, it's important to first move your Ryo, before you move your Sumokoin.
If you are comfortable using the CLI, you can just SWEEP ALL Ryo to yourself instead of all the above.
What's your history with Sumokoin?
You can read one-page list of sumokoin scam, that lead to partition.
In short: we parted ways after one of the devs failed to disclose with the public a 400 000 coins premine unlocking years earlier [1]. Then two other team members resigned for a week [2], one of which came back declaring "the ""i am getting out"" was a mislead to earn time" [3]. Meanwhile Sumokoin decided to fork back to an ASIC-friendly algorithm, later moved to the obsolete CN-R.
I noticed occasional 51282 Ryo reward block in explorer, what is it?
It is a weekly block with reward, that goes to development fund + regular miner reward. Read more about the introduction of dev. fund here.
Additionally, Ryo team held debates with the community on increasing of dev fund to meet expenses on vital goals (infrastructure, servers and development). The result of it was almost unanimous support for it, which was implemented in 0.6.0.0 network update.
In an effort to provide transparency to the community on how the development fund is allocated, we built the following Dev-Fund Explorer page that categorizes data and provides an at-a-glance report on where the funds are being spent.
I have a suggestion / bug report / business proposal - how can i contact developers?
If you are considering contributing your time to Ryo as a one-time, part time or full time contributor, we would like to discuss it with you: write us an email or contact any our active team members in Telegram group.
Where can I spend my Ryo?
Here are places you can pay with Ryo for now. The list will be updated as more companies and people start accepting Ryo:
Do you have any relationship with The Monero Project? Why are they so hostile towards Ryo?
The hostility started long ago (more than 2 years ago) - when Monero dev hyc_symas got upset on Ryo core developer fireice_uk for making an open-source xmr-stak-cpu Monero miner that gave ability for any Windows user to mine Monero 20% faster compared to the other miner - thus bringing effective mining to a wider audience. At the time hyc wrote "his" method only for Linux: [1], [2], [3]
As a code fork of Monero, the Ryo development team has spent considerable resources on improving the Monero source code. However, the Ryo team has been met with escalating aggression and personal attacks, for example:
- Ryo: fixes a privacy problem in Monero payment ID system and announce an update: link.
- Monero: "You attack it" [1], "you are parasite" [2], "it is well-known issue" [3], and the most arrogant response: "if there ever was a problem with it, MRL would have found it first." [4]
- Ryo: Ryo core developer @mosu_forge rewrites monero Wordpress plugin and contributes his work: https://github.com/monero-integrations/monerowp/pull/69
- Monero: names it "poor quality", then removes it [5], then decides that " This will be the base for the next version the third one" [6], and merges it with a removal of contributors copyright [7]

- Ryo: interact with community with a poll, about which type of attacks do they want to be educated first: https://twitter.com/fireice_uk/status/1069911640651522048
- Monero: Personal accusations like " Only a newbie who doesn't understand software development could be deceived into believing Fireice can lead an open source cryptocurrency development effort that would ever be taken seriously. " [8], incel accusations and accusations that Ryo dev. team is fake [9]

- Ryo: places license in its project files
- Monero: Tries to claim rights on BSD type of license https://github.com/ryo-currency/ryo-currency/issues/135