Confidently Transact with the Highest Degree of Anonymity
Private
Ryo was conceived with the highest levels of privacy in mind. From day one, Ring Confidential Transactions (RingCT) with minimum ringsize of 25 were implemented to conceal every transaction. Ryo Blockchain analysis is impractical. Have piece of mind knowing that what you choose to do with your money is your business, not anyone else's.
Untraceable
As privacy is the core foundation of Ryo, sending and receiving addresses are encrypted and transaction amounts are obfuscated by default. Disposable ghost addresses conceal your real Ryo address from senders, allowing for truly anonymous and untraceable transactions. Our uniform payment ID system, makes transactions that use payment ID-s untraceable and hides the very fact that you use ID-s.
Decentralized
Ryo adds privacy to the core of Satoshi's vision of a decentralized, trustless cryptocurrency. Many other cryptocurrencies fell prey to centralization caused by ASICS/FPGA/BOTNETS. Ryo will - as it has in the past - not allow this type of centralization to occur on its network through continued development of Ryo and its Cryptonight-GPU algorithm.
Fungible
Ryo is truly fungible because of its built-in privacy features. Just like cash, nobody knows who had possesion of any particluar coin before them. Even better than cash, nobody knows the identity of who they're sending their coins to. It is extremely unlikely that Ryo will ever be blacklisted by any third party due to any association in prior transactions.
Anonymous
Ryo allows you to use a new ghost address for every transaction you receive. Never receive coins with the same address twice, even further reducing the astronomically tiny chance of you and your transactions to be traced.
Easy to Use
The Ryo Wallet Atom is an user friendly, easy to learn wallet that lets you store, send and receive Ryo. Our GUI wallet is one of the most easy-to-use and intuitive wallets around.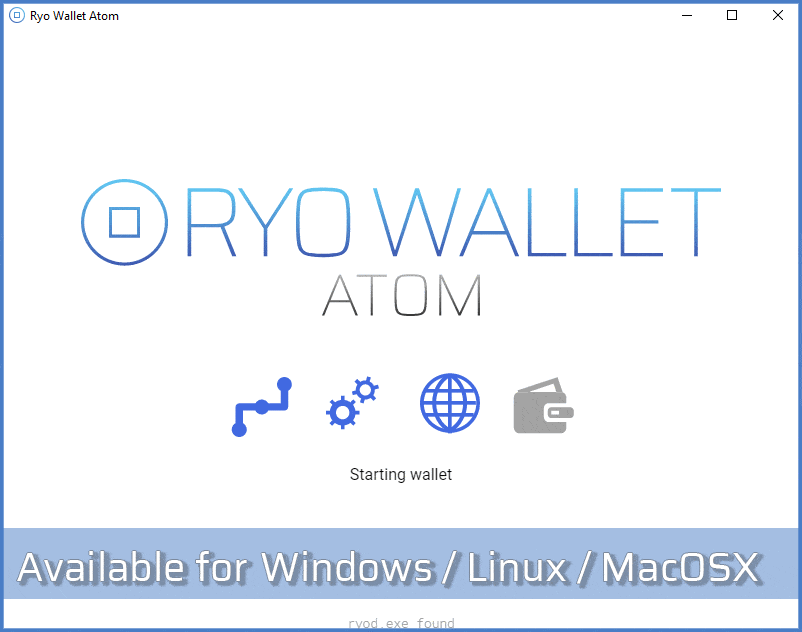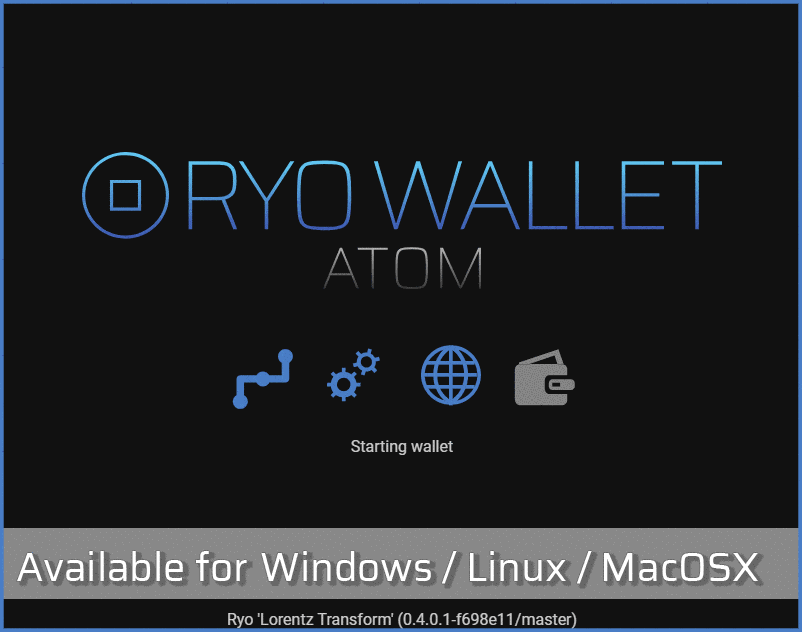 Current version: 1.3.2-0.4.0.1
Intuitive and feature rich Desktop GUI wallet with built-in SOLO mining pool.
Block Time
240 Seconds
Difficulty adjusted every block
Block Reward
65.07 Ryo / Block + Fees
Adjusted every six months
Total Supply
88,188,888 coins in 20 years
(including 8M dev. fund)
Then 263,000 coins each year for inflation
Development Fund
8.0 million coins.
Will be emitted together with the block reward over 6 years.
Whitepaper & Academic Study
Ryo, as a fork from Monero which itself was initially based on the CryptoNote protocol, inherits all whitepapers and academic studies from CryptoNote and Monero Research Lab. Additionally, Ryo has pioneered technologies such as Cryptonight-Heavy POW / Cryptonight-GPU POW and Uniform Payment ID. Some of them are already used by numerous other Monero forks.
Mining Pools
Tools
Tutorials
Learn More
Contact Us
This is a roadmap suggested by our developers but can be changed to reflect new project targets and the developer's vision. Implementation timelines are not fixed and subjected to actual development resources.
Core developers: @Fireice_uk, @psychocrypt, @mosu_forge
Contributing Team: @RyoRU, @Nostradamus411
Ryo is primarily a technology focused project, thus we do not spend large amounts of funds for marketing purposes. The founders believe that users looking for a higher level of privacy will seek out and find us. We encourage the community to speak about Ryo in their community.
Credit is due to the Monero Project. Without it Ryo would not be possible. Monero is a great project, but the Ryo Team believes we can create a more secure cryptocurrency by enabling higher ringsize from the start, implementing new private transaction system that retrofits to support old payment ID system.
Credit is also due to Nicolas van Saberhagen and the CryptoNote team for their original work on the cryptonote whitepaper, as well as the Bytecoin project for creating the first CryptoNote-based coin.
2018

June,
2018

Start of RYO

Sumokoin hardforked to ASIC friendly POW and Ryo continued on with the original chain.

Ryo Currency 'Free Radical' v0.2.0

Our first full release, including features such as multisig, wallet RPC auth, fluffy blocks, bulletproofs (not enabled yet), much shorter 'kurz' addresses for people who don't need a viewkey, and short 14-word seed secured by a proper crc-12 checksum.

GUI Wallet v0.2.0

Rebranded GUI wallet with new features such as dark theme and responsive windows.

Ryo Currency 'Pie Orbital' v0.3.0.0

Introducing dev fund, and various bug fixes.

Ryo Wallet - Atom

Initial release of architected from scratch, developed with a modern Electron codebase feature rich wallet.

Ryo Business Room

The Ryo Business Room is channel where we can build a community of people with a large interest in Ryo-currency. It exists to foster ecosystem development and incentivise holding while enabling business people to work together.

Ryo Currency 'Lorentz Transform' v0.4.0.0

Ryo Currency 0.4.0.0 - Lorentz Transform. This update brings 5 major updates in the source code, 2 of them are first among any Cryptonote coins.

Cryptonight-GPU

Cryptonight-GPU - FPGA/BOTNET/ASIC-resistant POW based on floating point math. Designed by Ryo developers.

Ryo Web Wallet - Quasar

Ryo Wallet - Quasar brings the user friendly interface of our desktop GUI wallet (Atom) to the web.

Ryo Wallet Atom - supports Solo Mining

With Ryo Wallet Atom 1.3.1 effortless solo mining in Cryptonote coins with Cryptonight algorithm has become "reality.
Core code development

This section is deliberately small - anybody can promise the moon and the stars. We - deliver.

Private payment ID system

Introduced in 0.4.0.0 update

Removal of payment ids and replacing them with a private system that's retrofitted to support the old ids

Increasing default ring sizes. (up to 100+)

First increase of default ring size 13 -> 25 was introduced in 0.4.0.0 update. Faster processing + Bulletproofs + more anonymous rings, to enable truly anonymous ring signatures.

x5 - x10 daemon performance optimisation

Eliminating major bottleneck and a good target for performance optimisation of wallet and blockchain sync times.

Cryptonote blockchain compression

Cryptonote blockchain compression, down into below 1 GB sizes for Monero, 100MB for Ryo.

Electrum-like wallets

Combination of faster processing and compressed blockchain extracts and a specialised server.
Infrastructure development

Atomic swaps

Peer-to-peer trading without exchanges.

Mobile Wallets for Android & iOS Devices

Porting Ryo-Wallet on mobile platforms.

Payment processors and services

Development and establishing partnership with various payment processors and services.

Developer tools

Development and upgrade of various tools and components for developers.

XMR-Stak GUI Interface

GUI interface for one of the most popular miner software.