Digital Cash For Highly-Confidential Transactions
Private
Ryo is created with a high level of privacy in mind, setting Ring Confidential Transactions (RingCT) with minimum ringsize (mixin) of 12 to conceal sources/amounts transferred and make it high resistance to blockchain analysis.
Untraceable
Ryo is untraceable; sending and receiving addresses are encrypted, transacted amounts are obfuscated by default. Transactions on the Ryo blockchain cannot be linked to a particular user or real-world identity.
Decentralized
Ryo follows Satoshi Nakamoto's vision of decentralized, trustless cryptocurrency, i.e. a secure digital cash operated by a network of users. Transactions are confirmed by distributed consensus, and then recorded on the blockchain immutably. Third-parties do not need to be trusted to keep your Ryo safe.
Fungible
Ryo is truly fungible, thanks to built-in privacy features. Just like cash, all Ryo are equal, changeable. It is extremely unlikely that coin will ever be blacklisted by any party due to its association in previous transactions.
Anonymous
Ryo allows you to use a new ghost address for every transaction you receive. Never receive coins with the same address twice, reducing the chance of linking your transactions to your spending habbits.
Easy to Use
The Ryo Wallet is a user friendly, easy to learn wallet that lets you store, send and receive Ryo. Our GUI wallet is one of the most easy to use and intuitive wallets around.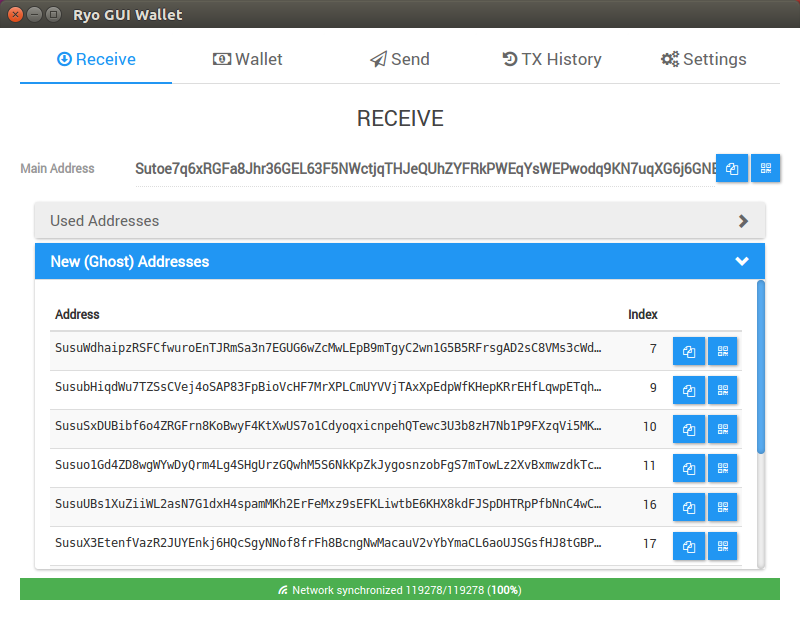 GUI Wallet (Full Node)
Current version: v0.1.2 "Wally Point Two"
Our wallet is one of the most intuitive GUI wallets in cryptocurrency world, available on Windows, MacOSX and Linux.
Windows Download
macOSX Download
Linux + Other Downloads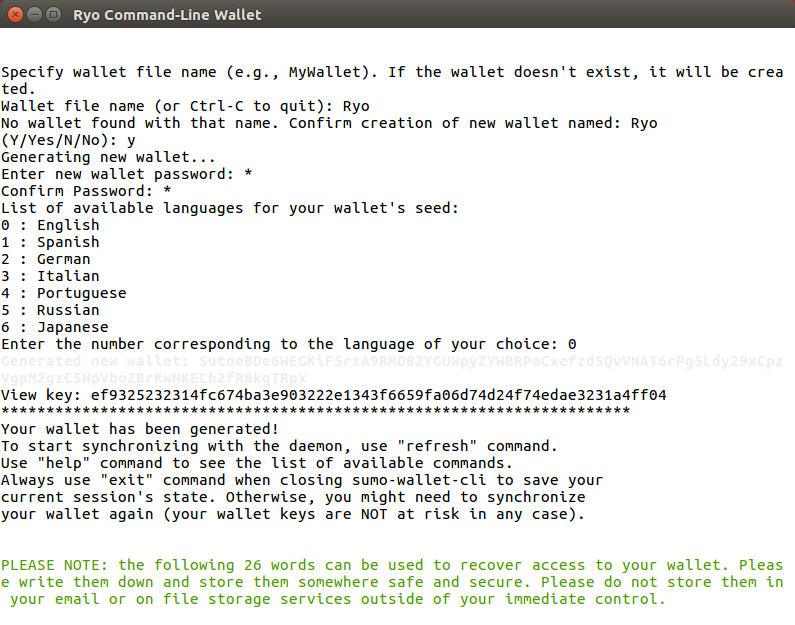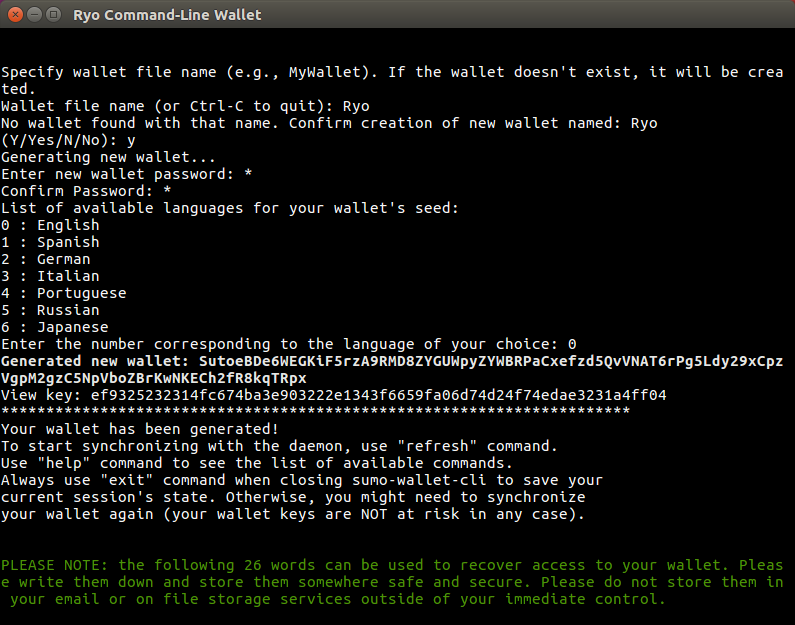 Command-Line Wallet
Current version: v0.1.2 "NOASIC"
For power users, download the command line wallet and daemon. Available on many platforms you'll have complete control over your Ryo.
Windows Download
Linux + Other Downloads
Algorithm
Cryptonight-Heavy
ASIC Resistant
Block Time
240 Seconds
Difficulty Adjusted Every Block
Emission Scheme
Camel Distribution
Inspired by Real-World Mining Production
Block Reward
41.97 Ryo / Block + Fees
Adjusted Every Six Months
Total Supply
80,188,888 coins in 20 years
Then 263,000 Coins Each Year for Inflation
Circulating Supply
4,890,897.47 Ryo (6% of total)
As of 2018-06-06
Premine
8,800,000 Ryo (10% of total supply)
The remaining premine has been burned!
Unlocked Premine
100,000 Ryo
Unlocked to Sumokoin devs in 2017
Whitepaper & Academic Study
Ryo, as a fork from Monero which itself was initially based on the CryptoNote protocol, inherits all whitepapers and academic studies from CryptoNote and Monero Research Lab. Additionally, Ryo has pioneered technologies such as Cryptonight-Heavy, which have been used by numerous other Monero forks.
Tools
Exchanges
Mining Pools
Learn More
Contact Us
2017

Sumokoin v0.1.2.0

Hardfork release to implement new difficulty adjustment algorithm to deal with flash-hashrate surges.

GUI Wallet

Sumokoin GUI wallet released which will end up being forked by many other cryptonote-based coins.

Sumokoin Easy Miner

Intuitive, easy-to-use GUI miner for Sumokoin and many other cryptonote-based coins

Subaddresses

Subaddresses support to improve coin privacy, also known as "Ghost" addresses.
This is a roadmap suggested by our developers but can be changed to reflect new project targets and the developer's vision. Implementation timelines are not fixed and subjected to actual development resources.
Core developers: @Fireice_uk, @psychocrypt
Contributors: @mosu_forge
PR Team: @Kesior, Soapy Fresh
Credit is due to the Monero Project. Without it Ryo would not be possible. Monero is a great project, but the Ryo Team believes we can create a more secure cryptocurrency by enabling higher mixins from the start and implementing features such as bulletproofs at a much earlier block height than our predecessor.
Credit is also due to Nicolas van Saberhagen and the CryptoNote team for their original work on the cryptonote whitepaper, as well as the Bytecoin project for creating the first CryptoNote-based coin.
Ryo is primarily a technology focused project, thus we do not spend large amounts of funds for marketing purposes. The founders believe that users looking for a higher level of privacy will seek out and find us. We encourage the community to speak about Ryo in their community.
2018

Sumokoin v0.3.1.0 + Cryptonight-Heavy

Hardfork release to implement new ASIC resistant Proof of Work algorithm.

LITE Wallet

Sumokoin Lite GUI wallet released allowing remote nodes for users who do not want to download the full blockchain.

Start of RYO

Sumokoin hardforked to ASIC friendly POW and Ryo continued on with the original chain.

GUI Wallet v0.1.2

Rebranded GUI wallet with new features such as: dark theme, responsive windows, and identicons to make transfers safer and easier.
In Development

Multi-Signature Wallet Implementation

Micro-Payment Channel Feasibility Study

Web/Online Wallet

XMR-Stak GUI Interface

Bulletproof Implementation

Mobile Wallets for Android & iOS Devices

Micro-Payment Channel Implementation